Sewer & Drain Cleaning in Detroit, MI
Our Experts Can Help Unclog Your Drains!
Nothing can ruin a nice, relaxing bath faster than a clogged drain. If this happens to you, just remember that you can count on the professional plumbers from Cregger Plumbing, Heating and Cooling. With three generations of experience, our family-owned company is proud to have successfully worked on tens of thousands of residential plumbing jobs throughout Wayne, Oakland, and Macomb Counties.
Let us provide you with the same quality plumbing services including sewer and drain cleaning. Our Detroit drain cleaning technicians are licensed, certified, and equipped to get the job done right so you won't have to worry about standing water in your tub, sink, or any other drains again. Take a look at our reviews page and see why we are Detroit's most trusted drain cleaning service professionals!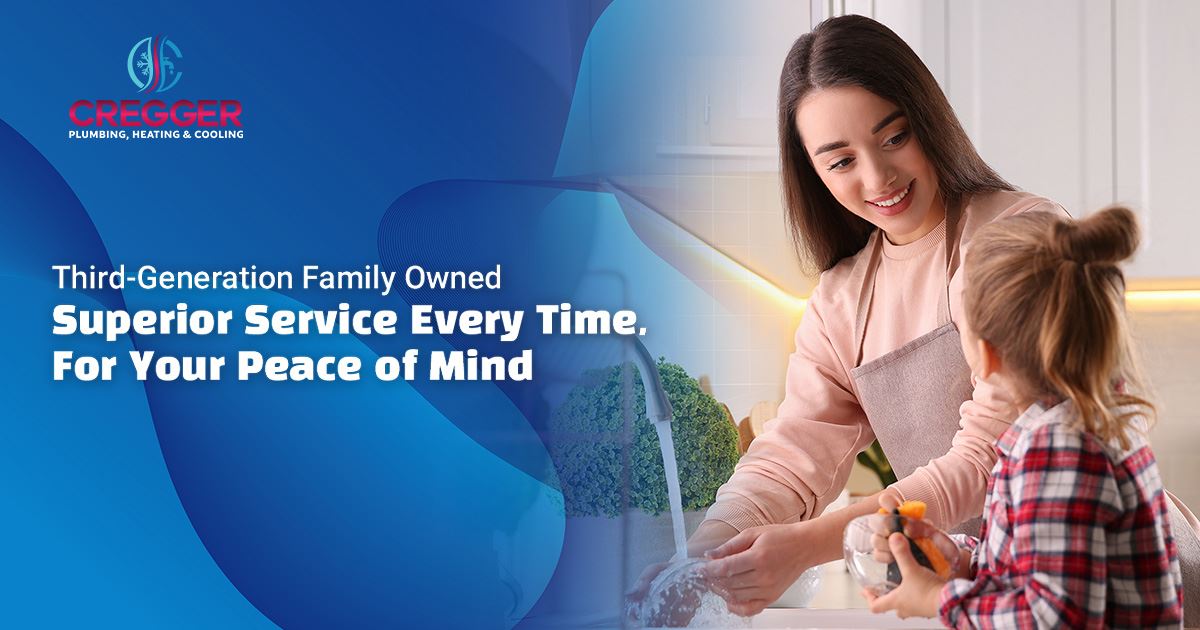 Traditional & Advanced Sewer Repair Methods in Detroit
While clogged drains might seem like a minor problem, they may also be a sign of a bigger problem down your sewer line. Sewer problems such as tree root clogs, cracks, and rotting pipes can be costly if not treated early. Make sure you get in contact with our Detroit drain cleaning team so we can provide you with the help you need.
Look out for other telltale signs of sewer damage such as:
A sudden increase in your water bill
Sewage backups
Sewer gas odors
Flooded basements
Foundation cracks and sinkholes
Indention in your lawn
Lush patches in your yard
Mold problem
Our Detroit drain cleaning plumbers always start with a thorough investigation into the source of the issue, including sewer line video inspection services. Our tools and techniques can efficiently locate pipelines and fix issues. Depending on the damage, we might recommend excavating your yard to repair or replace the pipes. However, if you want to save your landscaping, we also offer minimally invasive or no dig sewer line repairs and electric cabling to quickly clear lines without additional damage.
What Is Drain Cleaning?
Drain cleaning is the process of clearing out your drains to ensure that your drainage system is functioning at optimal levels. If you have a drain clog or are experiencing some other issue with your drains, our drain cleaning experts in Detroit can thoroughly inspect your drains and advise you on the best next steps necessary to ensure that your drains are clog-free.
Drain cleaning services may include hydro jetting, drain augers, drain snaking, or video camera inspections. Below we list and discuss the major warning signs to look out for, that indicate that you need to schedule a drain inspection and potentially drain cleaning services. Contact our team of drain cleaning professionals in Detroit, MI today to learn more about the benefits provided by drain cleaning services, and to schedule a service.
Contact us onlineor call us today at (248) 560-7780to schedule a drain or sewer inspection.

Top-Rated Company
We Have Earned Over 12,000 Reviews From Happy Customers
"Was on time and fixed it within 20 minutes."

Stacey

"Great friendly service!"

Mary

"Would definitely recommend Cregger and Ryan."

Sean

"Professional, Great Service"

Bob Karl

""Cannot recommend highly enough""

Catherine
What Are Signs You Need Drain Cleaning?
Are you unsure whether you need professional drain cleaning services? There are a couple of things that you can look out for to help you determine whether or not you need drain cleaning or repair services.
These signs include the following:
Slow draining
Standing water
Unpleasant odors
Frequent clogs
Odd/gurgling sounds
An increased number of fruit flies
Overflowing toilets or sinks
Multiple clogged drains
If you notice any of the signs above, we highly suggest that you contact a professional as soon as possible to get the situation inspected. Leaving a drain problem unnoticed can lead to further blockages that can be avoided.
What Are The Benefits Of Professional Drain Cleaning?
Professional drain cleaning services can offer you a number of great benefits. Drain cleaning can help to reduce the risk of a costly pipe leak, which may lead to further damages if left unnoticed. Through routine drain cleaning services, you are essentially helping to prevent damages, while adding longevity to your pipes. Through drain cleaning, you are also helping to ensure that you and your family are drinking and using safe and clean water.
Benefits of routine drain cleaning services include the following:
An instant improvement in your drainage system
The prevention of potential drain clogs
The protection of your home's interior from potential water damages
The elimination of unpleasant odors of sewage in your home
A possible reduction in your water bill
Safer and cleaner water through the removal of contaminants
Added pipe longevity and long-term results
Are you interested in learning more about the many benefits offered by routine drain cleaning services? Contact our drain and sewer pros in Detroit today!
Tips to Keep Your Basement Drain Clean
The drain in your basement carries a heavy load, removing wastewater from your water heater, washing machine, air conditioner, snow-covered cars, and more. The varied sources of potential debris that could get stuck and cause a blockage are as diverse as any drain in your home, and you need to keep up with your cleaning to make sure it remains in proper working order.
Some plumbing advice to follow to make sure your basement drains stay clear include:
Clear out any visible debris on a regular basis. Use an old toothbrush or dedicated scrubber to scrape off any buildup you see around it.
If you want to flush it out, boil a pot of water and carefully pour it down the drain. Wait about 10-15 minutes before pouring a small 16-ounce box of baking soda down the drain, and add in three cups of vinegar to agitate it. after letting it sit for another 10-15 minutes, pour another pot of boiling water down the drain to flush it out.
Emergency Services Are Available & Guaranteed
There's no telling when a sewer line or drain problem may occur. In case you find yourself with a flooded basement or a burst pipe in the middle of the night or the wee hours of the morning, keep in mind that our Detroit drain cleaning service is available 24 hours a day, 7 days a week for all your plumbing emergencies. We even provide a free, no-obligation estimate before we proceed with the service.
Suggested Reading:
Available 24/7 for Emergency Services

0% Financing Through Synchrony & Wisetack

Third Generation Locally-Owned Company

Experienced in Plumbing, Heating & Cooling

Fully Licensed Boiler Experts

Top Rated Company With Over 12,000 Reviews