Expert Metro Detroit Boiler Service
Handling Residential & Commercial Boiler Systems in Oakland, Wayne & Macomb Counties
Many homeowners and businesses rely on boiler systems for both heating and hot water needs. A highly efficient equipment, boilers are designed to heat water on demand as a water heater and distribute steam or hot water throughout the entire building as a central heating system. Boilers are usually classified between residential and commercial or industrial units. Residential boilers are more compact than the commercial ones, but both are usually the same when it comes to quality.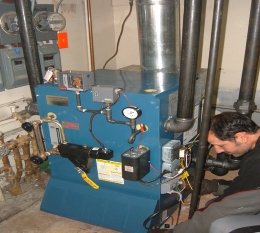 Whether you have a combi boiler at home or a fire-tube unit for your business, know that Cregger Plumbing, Heating and Cooling is the leading boiler experts in the area. We offer a wide range of boiler services from leak detection to circulation pump problems, new installation, and more. We also have hot water and steam specialists on the team, fully equipped and professionally trained to take care of all your boiler needs.
To learn more about our complete boiler services, call our office at (248) 560-7780 and we can help you to schedule a service.
Hot Water & Steam Specialists
Cregger Plumbing, Heating and Cooling handles both residential and commercial Detroit boiler repair systems, offering our experience and expertise to maintain, install, and repair your vital hot water and heating systems.
Our Detroit Boiler Repair & installation services include:
Circulation pumps
Repairs for all boiler controls
Carbon monoxide testing
Leak detection
New boiler installation
Installation, maintenance, and repair of tankless boilers, including Navien
In addition, our Ferndale based boiler specialists perform full safety checks as well as commercial CSD-1 certification for commercial customers.

Top-Rated Company
We Have Earned Over 12,000 Reviews From Happy Customers
"Was on time and fixed it within 20 minutes."

Stacey

"Great friendly service!"

Mary

"Would definitely recommend Cregger and Ryan."

Sean

"Professional, Great Service"

Bob Karl

""Cannot recommend highly enough""

Catherine
Working on a commercial boiler system isn't the same as working on a residential unit. Our Ferndale based boiler specialists perform full safety checks as well as commercial CSD-1 certification for commercial customers. These tests are incredibly important to ensure your system runs properly.
Signs of a Boiler Problem
Boiler system issues are inevitable. Like other mechanical equipment, boilers can be damaged due to accumulated wear and tear throughout the years, especially if the machine has not received any maintenance since it was installed.
Some of the most common signs of a boiler problem include:
Leaks or drips
Loud banging, gurgling, or whistling sounds
Losing pressure
The pilot light is out
Kettling
Frozen condensate pipe
Thermostat issues
While some boiler problems can easily be resolved with simple cleaning and tune-ups, others may require you to replace some parts or even the entire system. As your trusted Detroit boiler repair team, you can be sure that our Detroit boiler repair team recommends the safest and most cost-effective solutions for your needs. We also offer financing and other special coupons to help with any budget concerns.
We Work Around the Clock for All Your Boiler Needs
Boiler issues don't follow a schedule. They usually happen at the most inconvenient time such as when you're about to take a nice, long bath or while your business is operating. Thankfully, our professional plumbers and boiler repair in Detroit & Oakland County provide swift response 24 hours a day, 7 days week to get your boiler back up and running in no time.
Let one of our experienced boiler technicians show you how to maximize the efficiency of your hot water heating system. Call us now at (248) 560-7780 or use our online formfor all your boiler needs.
Available 24/7 for Emergency Services

0% Financing Through Synchrony & Wisetack

Third Generation Locally-Owned Company

Experienced in Plumbing, Heating & Cooling

Fully Licensed Boiler Experts

Top Rated Company With Over 12,000 Reviews